CHERRY LAWN SCHOOL PHOTO OF THE MONTH: DECEMBER, 2001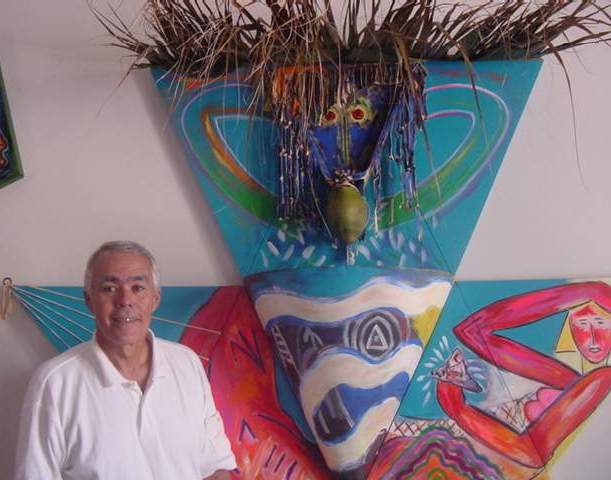 After the Conquest

Roy Lawaetz,'60, stands beside one of his latest interactive paintings being shown at his one man show at the Grand Galleria, St. Thomas. As Roy explains it: "Water was the platform upon which the early settlers to the Caribbean could be transported, then came Columbus with his ships for the Conquest, later followed by the events of the Middle Passage. All of these three profound legacies have had much to do with water. Here in a painting such as After the Conquest above, Roy Lawaetz develops an outrageous, wild and perhaps amusing scene of a modern day Rastafarian figure drinking out of an actual coconut. And real water flows from the coconut to create a special tropical mood. It is one that draws to the ancient belief of the early Tainos as well; that their fertility Zemis would provide adequate water in their lives. Note to the bottom left of the painting hammock elements also occupy one of the works, triangles. These cultural references and linkages constantly crossover in the artistís works, an alchemic blend of ancient Caribbean myth, tribal art influences, modern day technology (in this case a hidden submersible pump device) and his personal vision of shape-making and color that provides alternative art." [Photo Credits: Michael Paiewonsky, owner MAPesMONDe, Charlotte Amalie, St. Thomas, V.I.]

For more information, we refer you to this St. Thomas Source article.