Life and Career of Basil Burwell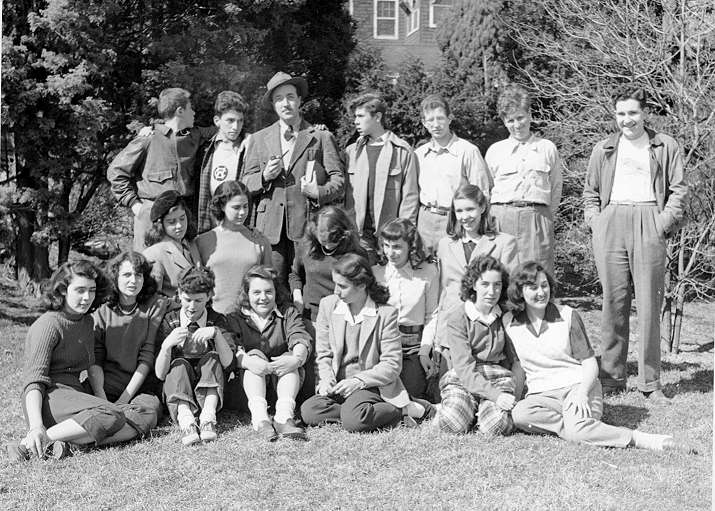 ** Bazz with members of the Class of 1949 taken in Spring, 1948 **
[We believe those pictured are: (back row, left to right) Jimmy (Malcolm) Fellman, Donald Bach, Bazz, Hal Boris, Eric Kahn, don't know, Carl Margulies; (middle row) Pat Edson, Ruth Goldhaber, don't know, don't know, Bambi Houtermans; (front row) Barbara Hurwich, Edna Fine, Chickie (Helaine) Fendler, Ann Ottenheimer, Carol List, Joan Malawista, Sue Figarsky. If anyone has additional information or corrections, please let us know.]
---
Bazz was born in 1911 in Chelsea, Massachusetts, the youngest of seven children. His mother, Amelia (Becket) Burwell, was a professional cornetist. His father, Edward Langworthy Burwell, was an amateur actor but made his living in the Boston textile industry. He was proud of his many ancestors who were sea captains of clipper ships.
Bazz began his career as a versatile and gifted actor in the 1930s. He studied with the Russian director Komisarjevsky, whose students included Charles Laughton and Sir John Gielgud. He spent the 1930s performing avant-garde drama in London and had a close association with the London Group Theatre. He also performed in many American theatres including the Classical Unit of Boston's Federal Theatre, the Los Angeles Civic Light Opera and off-Broadway theatres in New York. He toured with the Washington, DC, National Junior Theatre as well.
Bazz directed productions for many theatre groups, including the Philadelphia Irish Players, the Los Angeles Toy Theatre, and the Weston (Vermont) Summer Playhouse. He and actor Stefan Schnabel ran the Silvermine Guild Players in Silvermine, Connecticut, for five years.
Bazz taught English and drama at Cherry Lawn for thirty years, and taught at the William Penn Charter School in Philadelphia for another twelve years. Other schools where he taught included Beaver College, Silvermine College of Art, and Southern Connecticut College.
After retiring from the teaching profession, Bazz continued his strong dedication to community theatre by founding The Belfast Maskers in Belfast, Maine where he served as Artistic Director from 1987 to 1995. The Belfest Maskers grew out of a free community course in improvisation that Bazz taught in 1987 and their production of a mummer's play St. George and the Dragon. He wrote a play, Murder on the Moosehead, and adapted several productions for the Maskers, including Sweeney Among the Nightingales, and Pinocchio. He wrote Road Round Ireland with Padraic Column. Few Belfast residents will forget his portrayal of Firs in Chekhov's The Cherry Orchard, or his productions of Twelfth Night and Under Milk Wood.
Bazz published two novels, A Fool in the Forest published by Macmillan, and Our Brother the Sun published by Hermitage House. His unpublished manuscript, They All Played Hamlet, surveyed 300 years of Hamlet interpretations. His published poetry included Slave Cargo and the anthology, Poems for Lovers. He also published articles and stories in many magazines and journals including Story, Tomorrow, Friends Journal, and American Heritage.
Bazz is survived by his wife of fifty-six years, Nancy Sadler Burwell, three sons, Christopher Becket Burwell of Carlton, Washington, Jeremy Charles Burwell of Long Island, New York, and Frederick Alistair Burwell of Beloit, Wisconsin, and three grandchildren. He is also lovingly remembered as a Quaker elder and member of the Belfast Area Friends Meeting.
(We gratefully acknowledge Nancy Burwell for providing the photo and brief biographical sketch.)
***